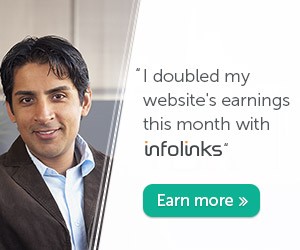 Infolinks, Inc. is a leading provider of In-Text Advertising services, working with online content publishers worldwide. Infolinks enables website owners and publishers to benefit from premium In-Text ads while earning the highest revenue share – guaranteed.
Established in 2007, Infolinks already leads the industry with the most attractive business model and guarantees the highest revenue sharing basis to all partners.
Minimum Requirements to Join
Domain – Owned or free domain(subdomain).
Traffic – No minimum traffic requirements.
PayPal Account (If you want payment through PayPal)- Make PayPal Account
Website Content – Should not contain Illegal drugs or related content, Hate speech or hate graphics content.
Use English as the primary language. Website should be content-rich with more than 50 words per page on the majority of the site. Should contain original content, not repurposed content, that is owned and created by the sites themselves. Not be used for domain parking. Must be a live website and not "under construction".
Website should not contain Illegal activity, Pornographic or indecent material, Material that violates intellectual property rights of third parties, Excessive profanity, Hate, violence, racial intolerance, or advocate against any individual, group, or organization. Should not promote Illicit drugs and drug paraphernalia. Must not contain any content that is not consistent with Kontera Technologies' corporate policies as determined at its sole discretion.
Available Ad Formats – Inline Ads, Image Ads,Text Ads, Text Image Ads
Minimum Pay Out – $50
Payment Modes – Check, PayPal, EFT
Check will be mailed to the address. Through EFT  transfer earnings to publisher savings account. Also can Transfer revenue directly to your Yahoo! Search Marketing account.