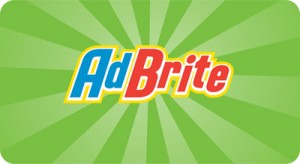 Edit/Update :- Adbrite is no more in market. They discontinued their service few years before.
One of the top advertising and ad publishing company online. Advertisers can buy your ad space directly from your website through a link nearby the ad provided by them. They have cpm and cpc advertisements. Some added features are that they also display inline advertisements and full page advertisements if publisher wants it to be displayed in his website. This makes more chances for clicks on ads and thus your earnings grow fast. One other attracting feature is, they allow to display other advertisements inside their frame if there is no highly paying advertisements for them to display. See an adbrite vertical ad at right side bar of his page.
Minimum Requirements to Join Adbrite
Domain – Owned or freedomain(subdomain).
Traffic – No minimum traffic requirements.
Website Content – Should not contain Illegal drugs or related content, Hate speech or hate graphics content.
Should not engage in, promote, or facilitate illegal activities such as pirating, hacking, spamming and infecting. Websites should not be under construction. Should not  sponsor "incentive clicks", are "pay-to-surf" programs, or use resident desktop objects such as bars and window frames. Should not contain an excessive amount of advertising in general. Should not offer  incentives of any kind for users to click on ads.( This includes encouraging users to click on the ads or to visit the advertisers sites as well as labeling the ads with text other than "sponsored links" or "advertisements"). Should not require or prompt an end user to download a dialer in order to view content of the website. Should not display ads as a result of the actions of any software application such as a toolbar. No BidVertiser ad code may be pasted into any software application for displaying ads. Bidvertiser may not accept sites that are associated with some types of client-side software or offer these types of client-side software.
Available Ad Formats – Image Ads, Text Ads, Full Page Ads, Inline Ads, Banners, Buttons, Inline Ads, Skyscrapers and Free Design.
Horizontal Banners-Leaderboard (728 X 90), Full Banner (468 X 60), Half Banner (234 X 60)
Vertical Skyscrapers – Skyscraper (120 x 600), Wide Skyscraper (160 x 600), Small Rectangle (180×150), Vertical Banner (120 X 240),
Rectangles – Small Square (200 x 200), Square (250 x 250), Small Rectangle (180×150), Medium Rectangle (300 x 250), Large Rectangle (336 x 280)
Minimum Pay Out – $5
Payment Modes – Check
Minimum payout is $5.
Join Adbrite and turn your advertising space into cash!