Webstarts is another free website making website who were in internet since 2001. They are one of the oldest free website making service provider who brings free website making available to public. As the are the oldest the have a large number of users where they hosted their free websites. In webstarts users can create any type of website including personal websites, professional websites, online store websites etc. Webstarts drag and drop Site Builder requires no technical skills.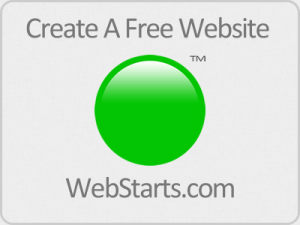 Features of free account in Webstarts.com
Add Your Own Custom Domain Name.
Optimize your website for mobile devices.
Custom Email Addresses.
Instantly begin accepting credit card payments directly from your website.
Create custom forms.
Sell customized products or take donations from your site with payment enabled forms.
Create Dazzling Slideshows and Photo Galleries.
Create a cinematic website experience with draw dropping video backgrounds.
Create bold and modern designs with full with photo backgrounds.
Convey your ideas without adding clutter to your site.
Create 'Members Only' Pages On Your Website.
Search Engine Optimization Wizard.
Get real help from real web experts.
Save time when customizing your design with complete style management.
Change your sites color scheme with a single click.
Get your site visitors to share and go viral.
Add YouTube Videos and stream them from your website.
Post Instagram photos directly to your website from your phone.
Add Facebook Like Buttons and Comment Boxes.
Never run out of great looking photos for your website.
Show off a video library or portfolio.
Integrated Image Editing Software.
Choose from 100's of completely customizable designs.
Share Word documents and PDFs on your website.
Hundreds Of Font Styles Now Available.
Build your brand by adding a favicon to your pages.
Post to your very own blog.
Add A Guestbook.
Drag and Drop editing.
Add dynamic and interactive apps and widgets to your site.
Know who's on your site and where they're coming from.
Protect your work from being downloaded.
Menu Builder.
Add Images.
Set Image Opacity.
Custom Image Alt Tags.
Add some ambiance to your site with a music player.
Create unique designs without limitations.
Precision controls let you easily create professional looking designs.
Share your updates straight to social networks.
Google Sitemap support.
Make a Free Website in WebStarts.